More Help Categories
Page Size Help

If you need help getting the correct size and orientation for your poster.
See all the sizes we can print from your file.
Calculate how to resize your document if it's in the wrong proportion for your desired size.
Check Our Scientific Poster Tutorials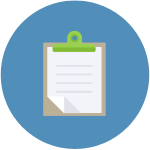 We have created an in-depth scientific poster tutorials section to help answer some of the more frequent questions and concerns our customers have.
---
Tell Us On Twitter

Tweet us a question @posternerd_ or visit our Twitter page.
---
Ask Us On Facebook

You can also drop us a comment on our Facebook page too.
Page Size Help
Important - Your PowerPoint page size must be proportional to the final poster size. If you send us a "square" file, we won't stretch your poster to a "wide" page.
Posters larger than 56"
If you're ordering a poster with a dimension larger than 56 inches, you'll have to use a smaller page setup. PowerPoint has a maximum page width of 56 inches. See the tutorial for step by step instructions and a table of typical pages sizes that work.
What sizes can I order my poster?
Use our Poster Size Calculator to determine the sizes your poster can be printed.
Need your poster printed to a different specific required poster size?
It's easiest to just use your existing file as-is and print it to the largest possible size within the required size restrictions. (Use the Poster Size Calculator to see what your options are.) However, if you must change the proportion of your PowerPoint page so it can be printed to a specific required poster size, use our Page Size Converter to help figure out what new page size to make your file.
Need a Poster?
Our ordering process is easy and our customer service is unforgettable!