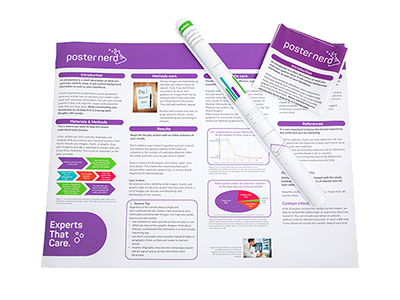 Ready to Order?
PosterNerd.com is easiest way to print your poster.
Billboard Posters
a.k.a. Better Posters, Posters 2.0
This non-traditional poster layout is gaining popularity at poster sessions. Here are some guidelines on how to construct a billboard poster.
---
Components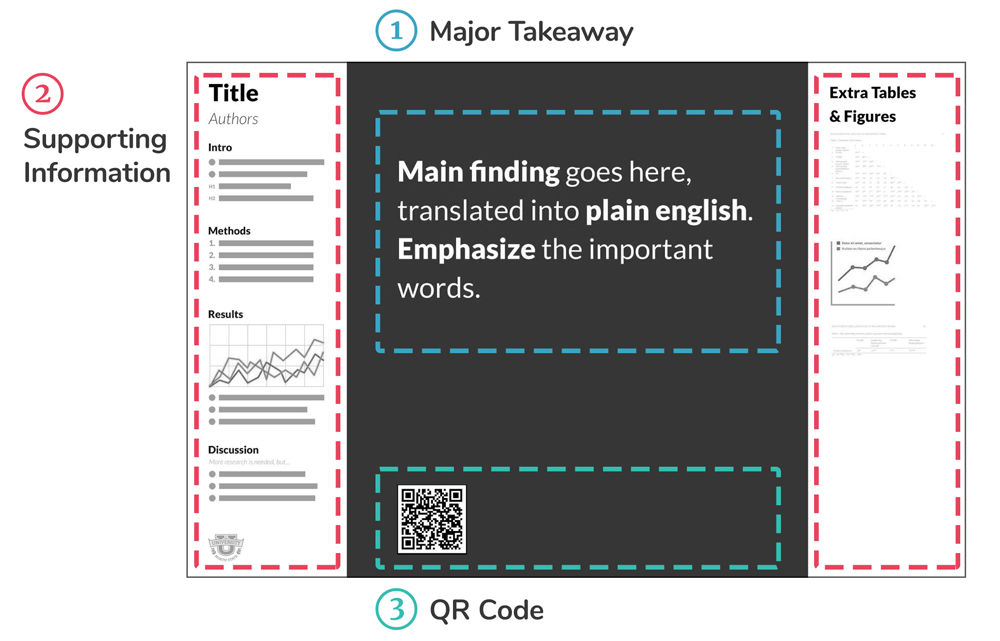 1. Major Takeaway
A plain english title with key phrases highlighted. As attendees travel through the poster session, they should be able to quickly scan your title, understand what your poster is about, and decide if they want to learn more.
Tips on crafting your main takeaway
Summarize your main finding in plain language. Take your time to come up with a very strong title, since it's the main driver of the poster.
Highlight important words in bold. This helps the viewer to read the title quickly and understand the most important pieces of what you are saying.
Do not overstate your findings or use deceptive language. The intention is not to grab attention, but rather convey information at a glance.
Try to keep your title to one or two sentences.
Align the title to the left and include plenty of spacing around it to ensure readability.
2. Silent Presenter Bar
An easily digestible explanation of your methods and results that attendees can read through without the need for further conversation. This should include the most important pieces of your research as well as an introduction and conclusion.
Tips on creating the silent presenter bar
Consider this to be a very abbreviated version of a traditional poster. Try to include introduction, methods, results, and conclusion sections.
Someone reading this section should be able to look over all the information in 1-4 minutes.
3. QR Code / Contact
This section should include a QR code that links to an online version of your presentation. Ideally this includes a digital version of your poster, the associated paper, and any other relevant resources. If someone would like further information after the session is over, this section should tell them the best way to do that.
Tips on creating your QR Code
Use an online QR code generator to make your code.
Linking to a Dropbox folder, Google Drive folder, LinkTree, or other document store will allow you to include multiple items behind your QR code.
Include your contact details in this section as well.
---
Other Considerations
You may want to use on of your school or organization's colors and the main background color. If it is a light-colored background, change the font color to black instead of white.
We don't recommend using a photo as the background of the main section since it makes the text difficult to read.
Including a chart of your results in the main section can help reinforce the title.
You can include your school or organization's logos in the main section about the title or at the bottom of the silent presenter bar.
---
Powerpoint Templates
We have a few powerpoint templates to get you started:
---
Questions, Comments, or Concerns
If you have any further questions or comments about our tutorials, we would love to help you out.