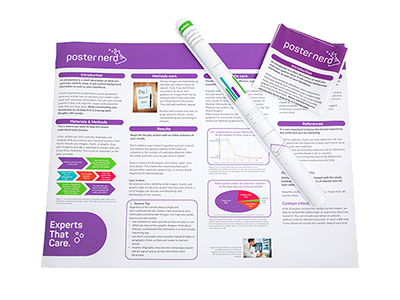 Ready to Order?
PosterNerd.com is easiest way to print your poster.
Common Questions
Here are some common questions that people ask us when they are making their poster. If you have a question that is not answered in this tutorial, we are happy to answer it.
---
Poster Questions
How far in advance do I need to order my poster?

Depending on where you live and when you order, we can usually get your poster in your hands the next day. However, we strongly recommend trying to get your poster a few days before you need it. This will allow you more time to review your poster and will also account for any unforeseen circumstances like a shipping delay due to weather.

What size should my poster be?

We suggest first seeing if your event, school, or organization has guidelines or a specific size requirement. If not, the most common size we see is 48" x 36". More information is on the poster sizing page

What font size should I use?

We recommend at least 24pt for text and at least 36pt for headings, but use larger sizes if you need your text to be read from farther away. More information is on the layout and design page.
---
Powerpoint Questions
How can I copy charts from Excel?

You can just copy the chart from Excel and paste it into your poster. This will still allow the chart to be edited within Powerpoint. You can also choose "Paste Special" (using the arrow underneath "Paste") to be given more options.

How do I resize my file?

If you need to resize your file, you want to be sure your content scales proportionally so that it doesn't stretch or become distorted. Depending on your version of PowerPoint, there are two simple ways to do this:

Choose "Ensure Fit" when given the option.

Select all the content on your poster and cut it. Resize your file to the new size. Now paste your content.

After you have resized your file and kept all your content in proportion, you will need to rearrange your content to fit the new size.
---
Questions, Comments, or Concerns
If you have any further questions or comments about our tutorials, we would love to help you out.